Let your pet have the freedom of your yard without the fear of them running away. 
Your yard might be small. But that doesn't mean you have to keep your pet on a short leash. Transtar's exclusive Wireless Plus technology lets your dog or cat play right up to the edge of your property. It has an adjustable operating distance of 500m, that's 60% more distance than most wireless dog fences, making it the perfect fit for tight spaces or uniquely shaped lots. So, relax. And let your pet make the most of your (not-so-square) yardage.


 Wireless Dog Fence Features:
Completely Wireless: Transtar is 100% wireless saving you a lot of time during setup, theirs no wiring, and

 

no

 

burying. 
Adjustable Long Range & Short Range Distance: Transtar's long-range distance gives your pet more room to run and play. With 1650ft/500m of 

adjustable distance

, you can give you're the pet the freedom and security they need, and you have the convenience of setting up your wireless dog fence anywhere.
1 Transmitter Supports Unlimited Collars: 1 transmitter supports an unlimited number of collars, if you have a large dog family, don't worry we've got you covered!
Stationary & Portable: Transtar can be used stationary plugged into the wall, or, if you want to travel with your pet, you can power the transmitter with your portable power bank and use the Transtar system while traveling.

Power Saving Mode:

 

To conserve power, the receiver will go into standby mode if there are no operations within 1 minute. This will not affect the wireless fence operation, the fence and collar will remain on and active.
Ultra Durable & Waterproof: We know how destructive pets can be, Transtar is ultra-durable, waterproof and rechargeable.
Trains and Stops Your Dog From Running Away: If your dog exceeds the range you've established, the collar will initiate its training function automatically. The Transtar collar will beep every two seconds, for three times, reminding your pet to return to their designated safe area. After the third warning beep, if your pet has not returned home, the collar will give a safe low-level correction shock, that gradually increasing in intensity from levels 1 - 4, this process will repeat 3 times until your pet returns home. Afterward, your pet will understand not to leave their boundary.
Plug and Play Setup: Plug-In the Receiver and Adjust the Size of the Radius (In Feet), Put the Collar On Your Pet and It's Ready to Go!

 

It's Always Recommended You Train Your Dog To Learn their Boundary.
Dual Training Modes: 

If your dog exceeds the range you've established, the receiver will initiate its training function automatically, which will remind your dog to return your designated safe area. 

There are two training modes, beep tone alert, and a safe correction static shock that gradually increases in intensity from levels 1-4 (auto shuts off after 3 cycles) if your dog continues to go beyond your preset range.

 

More on how this works below.
How it Works:

The receiver has a control range of 500 meters in radius. With the Plus(+) and Minus(-) button on the receiver, you can adjust the transmitters signal level from 1 - 100. This allows you to freely increase, or decrease the control range/radius of the wireless dog fence. The signal level you set will be displayed on the screen of the transmitter.
Simply attach the receiver to your dog to receive a constant wireless radio signal from the transmitter set up in your house. If your pet goes beyond the adjustable range, the collar will automatically begin its training function. The collar will begin to beep every two seconds, three times, reminding your pet to return back to their area, if they do not return to their area after the third warning beep, the collar will give your pet a safe correction static shock that gradually increases in intensity from levels 1-4 (auto shuts off after 3 cycles) until your pet returns home.

For optimal performance, please fix the transmitter 5ft from the ground, and away from

 

metal walls to avoid any signal interference.
The receiver will go into stand by mode to save power if theirs no operations within 1 minute.
Please Note: Setting markers for your pet, to help them understand where their boundaries are, will help train your dog to remember where their area ends.
- Will not work with Metal Buildings or Masonry Walls
- For large estates only: 50 feet house to boundary minimum requirement
Why Transtar is better than competitors:
Transtar is the safest solution for all types of pets. The strength of shocks has been evaluated by Dog Training Specialists around the world. Transtar is assured to be safe and comfortable for your Best Friend.
*Photo of Our 1 Dog System with Training Flags 
Train your dog in within 14 days! The wireless dog fence will not hurt your dog. Static correction is mild and completely adjustable. Three progressive levels of correction allow you to administer training quickly and gently.
Our wireless fence covers large areas and most yard shapes or layouts. You can easily confine your dogs to the back yard, or the front yard and backyard without access to the sides of your house; or full-property access.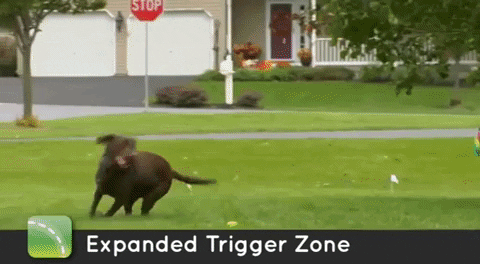 It works wonders on stubborn or hard-to-train dogs while being safe for everyone who enters your yard. The static correction only goes through the two contact points on the receiver.
The wireless fence works for dogs in all sizes. The collar is fully adjustable, and fits dogs 10lbs and up.
Don't settle for less when it comes to safety for your pet. Get Yours Now!
Wireless Dog Fence Specifications:
Material: ABS plastic(transmitter, receiver), TPU(strap)

Power adapter: AC 110-240V

Battery Life: Up to 1 Week and 4 days

Charging time: 2 - 3 hours

Adjustable signal level: 1-100

Remote control range: Adjustable 0-1650ft/0- 500 meters in radius

Containment coverage: Up to 78 hectares

Compatible pet neck circumference: 6"-28"

Water-resistance level of collar: IP67

Strap size: 30" x 0.7" /75.5 x 1.9 (L x W)

Transmitter size: 5.5" x 3.3" x 1.3" (L x W x H)

Receiver size: 2.7" x 1.5" x 1.3" (L x W x H)

Package size: 11.22" x 6.93" x 1.97" (L x W x H)
What's Included:
1 x Wireless Transmitter

1/2/3x Collar Receiver

1/2/3x Adjustable TPU Strap

1x Charger

4/6/12x Pcs Metal Contact Probes

 2x Screw

 2x Screw Holder

 1/2/3x LED Test Light

 1x User Manual