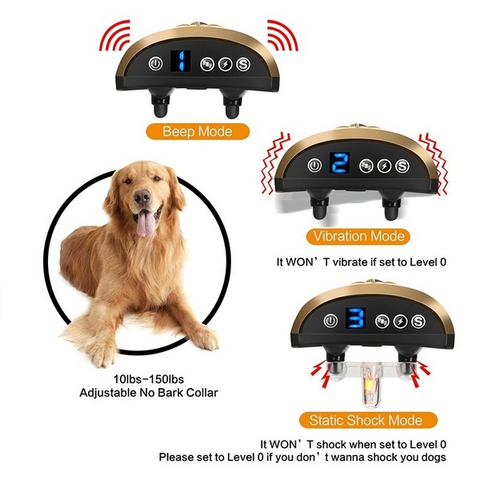 A TOP CHOICE CURE FOR UNWANTED BARKING
–You don't need to be present. This dog bark collar can be especially helpful if you've had neighbors complain about your dog's loud protests while you're out.
ANTI-FALSE TRIGGER SMART CHIP
– This anti bark collar stimulation system is accurately triggered by both vibration and sound, which depends on the sensitivity level from 0-7.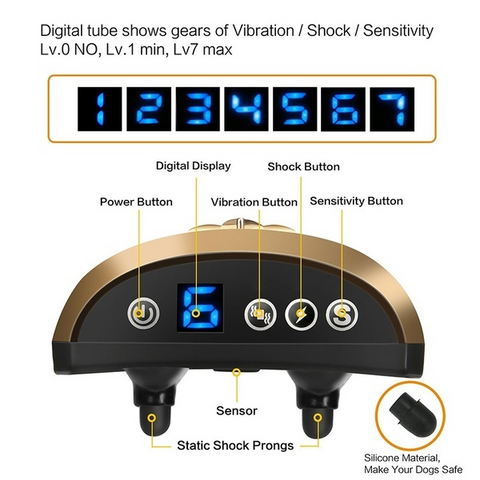 3 SAFE TRAINING MODES SELECTABLE AND ADJUSTABLE
- Free combination among tone, vibration and static shock stimulation. You're recommended to start from the lower correction to find the most effective level.
UPGRADED DURABLE PVC STRIPE
- Our collar is made of high quality PVC that is durable with just the right amount of flex. Also, it is much easier to wear and fasten.
SILICONE ELECTRODE & PROTECTION SYSTEM
– It will auto shut-off when it triggers 7 times in 1-minute-period and restart automatically after 1 minute. Although it has this protection setting, because of the good thermal conductivity of metal, it may be over-heat to make hurts. Silicone will solve this problem effectively.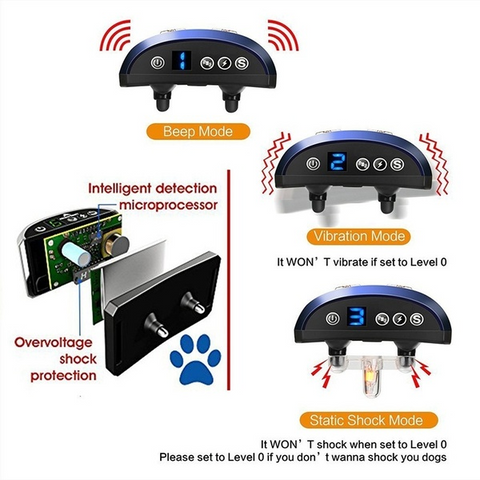 How No Bark Collar Works?

When your dog barks, smart detector chips will collect vibration and sound to trigger stimulations (Beep, Vibration or Harmless Static Shock) through the silicone electrodes according to sensitivity from level 0-7. Also, it contains a protection program to avoid damage to your dogs. It will turn off automatically if your dog barks 7 times within 1-minute-period and it will restart automatically 1 min later.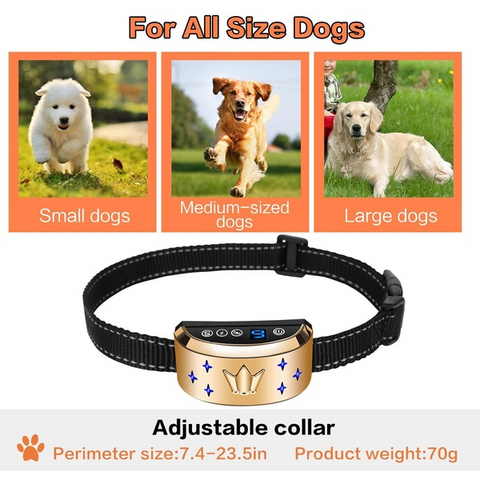 Features
- Collar Size:Durable PVC Collar from 9'' to 21'. Able to fit small, medium and large dogs, from 10lbs to 120lbs.
- 7 Sensitivity Levels.
- 7 Beep/Safe Static/Vibration Levels.
- Free combination among tone, vibration and static shock stimulation
- Rechargeable and last for nearly 20 days in one-charge.
- IP65 Rainproof. Please take it off when swimming or taking a shower.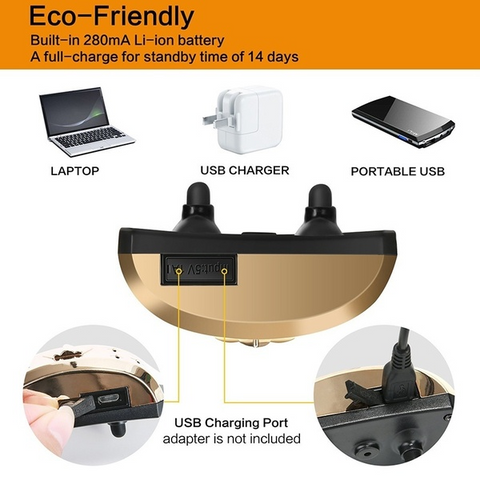 1 x Smart Bark Collar
1 x USB Charging Cable
1 x Test Bulb
1 x User Manual